Carleton Printing: Your Go-To Direct Mail Printers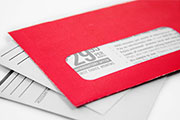 When you need the expertise of professional direct mail service, rely on Carleton Printing. We've been producing direct mail pieces for nearly fifteen years.
As a recognized bulk mailing center, Carleton Printing fulfills all postal requirements with up-to-date software and a great working relationship with the local post office. Direct inkjet addressing, sorting, mail merging, database management, C.A.S.S. certification and label affixing are available to you. Let the experts at Carleton Printing handle a few steps or the whole process in your mailing campaign. Our friendly customer service representatives will be happy to show you how Carleton Printing can be a turnkey operation for all your marketing.
Our mailing service includes:
Collating
Folding
Inserting
Mail Merge
Stamping
Sealing
Tabbing
Sorting
Stuffing
Post Office Delivery
In addition to direct mail pieces, we also produce post cards from our direct mail printers. Our full-color post cards have the professional, yet affordable, quality needed to successfully promote a business or product.
Our Post Card Service Offers:
Bleeds are available at NO additional cost
Printed on premium 14pt gloss stock
Full color, B/W or blank back available
Durable, water-resistant UV-coating
With Carleton Printing managing your direct mail pieces, you'll have more time to concentrate on more important issues at hand. We take care of it all: everything from coordinate the printing to delivering the direct mail pieces to the post office. No job is too big for the direct mail printers at Carleton Printing, let us help you grow. Contact us today for a quote on your direct mail order.